From San Diego Union-Tribune (Dec. 31, 2006)
---
Their ambitions speak volumes
At City College, duo break down walls By Arthur Salm
BOOKS EDITOR
This year must have seemed slow for Kelly Mayhew and Jim Miller, so the couple will be amping things up a little for 2007.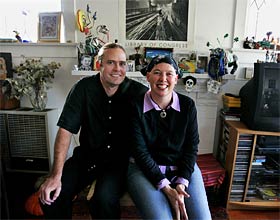 After all, all the two City College professors did in 2006 was put on the first San Diego City College International Book Fair (Miller is the fair's director) in October, and make it through the second year of City Works Press, the local publishing house they helped found with the City College-based San Diego Writers Collective.

Now, they've just returned from Florida, where they attended the Miami Book Fair International, the largest such event in the country.

"The campus of Miami-Dade Community College is similar to San Diego City College in that it's smack in the middle of Miami," Mayhew said. "It's a two-day affair, and it's huge. The estimated number (of attendees) they gave us was 200,000."

While Mayhew and Miller likely picked up some pointers and stole the odd idea here and there, a lot of what they did was see what the San Diego City College fair shouldn't be like.

"It's huge, and it's impressive," Miller said of the Miami fair, "but less than 10 percent seemed to be city college students and young people. We want to keep ours small enough that it's not alienating. In Miami, we'd go to readings, and all the front rows were taken up by donors."

"It's on the college, but not of the college," Mayhew said. "The great thing is that ours is on campus, and this is the most diverse campus in the city. The median age is 28. The college is representative of the city itself."

Mayhew and Miller – besides being married – are also the co-authors, with Mike Davis, of "Under the Perfect Sun: The San Diego Tourists Never See" (2003), a blistering political and social history. And, since they are both not only football fans, but Raider (!) fans, "Better to Reign in Hell: Inside the Raiders Fan Empire" (2005).

Mayhew is a professor of English and the assistant chair of the English, Philosophy, and Humanities Department and honors program coordinator at City College, as well as honors coordinator for the San Diego Community College District. Miller, also a City College English professor, has published poetry in a number of publications, including Fiction International, New Novel Review, Kiosk, Bakunin, California Quarterly and Pacific Review. Their son, Walt – named for Walt Whitman – turned 3 this week.

Their driving idea behind the San Diego City College International Book Fair is to key the event to the community, and to make sure that corporate participation, while welcome, doesn't dominate.

"Our goal is to break down the walls between Barrio Logan, South Park, Golden Hill and downtown," Miller said. "Obviously, we want to attract people who traditionally come to a book fair, but we want to open it up to people who wouldn't ordinarily go to an event like this."

And, Miller added, the San Diego event will always be free, with free booths for local booksellers. (The Miami Book Fair charges fees to all exhibitors. Admission to the fairgrounds was $5 in 2006.)

This year's inaugural event attracted a most unwelcome guest: Rain, for the first time in six months, dampening books and spirits alike. Still, the fair pulled in about 2,500 people, and with a bigger budget and better weather (the 2007 fair will be moved up a week to improve the odds), Miller believes the turnout could double.

The fair is about a lot more than just booths and booksellers. An early model was Quincy Troupe's Artists on the Cutting Edge series in La Jolla: Music, art and literature, Miller said, will always be three components. Currently, there are plans to expand the event to a spring series.

"We can do what Quincy did," Miller said, "but do it downtown and do it for free."

Going into its third year in 2007, City Works Press plans to publish its second novel, "The Unmaking of Americans: 7 Lives," by Mel Freilicher, as well as a poetry collection by former Taco Shop Poet Adrian Arancibia and "City Works 2007," a continuation of the press' journal of poetry, fiction and creative nonfiction from student, local and national writers.

That should just about do it for next year – except for "Drift." That's Jim Miller's first novel, coming out in February from University of Oklahoma Press.